Tweet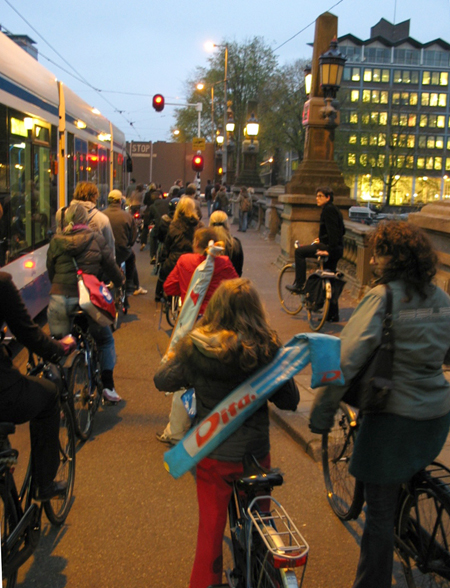 The question of how many people die each year as a result of bicycle accidents in Amsterdam and Holland in general comes up periodically. I've usually thrown out the figure of "a handful per year" that I'd once heard. It turns out that this is about right. Toby Sterling, fellow Amsterdam resident and blogger whom I've never met did the research and compares it nicely with other countries and the statistics for murders in Holland as well.
Here's Toby Sterling's blog and discussion of bicycle accident deaths.
Here are some quick excerpts though Toby's original text is more fun to read. Basically the message is simple: despite extremely high rates of cycling and negligible helmet use the odds of being killed while cycling in the Netherlands are extremely low.
Nationally the total of bicycle accident deaths hovers around 200.
In Amsterdam about 6 people die in bike-related accidents yearly.
16 million Dutch own 18 million bikes.
About half the population of the NL rides a bike once a day.
The average distance traveled by bike per person per day was 2.5km in 2006.
The bicycle is used for almost a quarter of all journeys, and 35% of journeys below 7.5km.
Overall traffic safety in NL is the best in Europe with 45 deaths per million inhabitants per year.
The US has 147 deaths per million inhabitants per year.
You're more likely to die of murder in the US than by cycling in the Netherlands.
You're more likely to die by drowning in the Netherlands than by cycling.